Ian and I have quite the full household with four dogs, four cats, and a chinchilla. I would include our 25 chickens in that count, but they live in their own little house. Our little pack and pride is quite happy together, but we realize that individual time is also important as it diffuses a lot of tension and creates a very strong bond between us all. To that end we find ways to spend time with everyone based on what they like to do. For example, our kitty Bink really loves to help me in my office. She's sitting next to me right now in her chair, waking up from a nap and ready to help rearrange some paperwork on my desk. Logan, our great pyrenees, loves nothing more than to cuddle on the couch like a big white teddy bear. Miss Kitty gets brushed every evening before bed, then falls asleep right next to me.
Jackson, on the other hand, loves school. He was an excellent student in puppy class last summer, playing nicely with his classmates, paying attention, and learning quickly. An 18 month old border collie-ish mix, Jackson has a lot of energy. Let's put it this way, it's a good thing we have 3 other dogs because once he's tired them out, he might be ready for a nap. He's a nimble fellow as well. Not only can he run extremely fast flat out, but he can turn on a dime and get back to speed before his playmate can even slow down to turn. Inside the house he makes very good use of the furniture by going over and under it while playing tag with his pals. Naturally, we decided to enroll Jackson in another class with the Dog School. Beginner agility this time.
The weather was beautiful and warm this week as Ian, Jackson, and I headed to class. With the windows rolled down and Jack taking in the sights and smells, I made use of some creative camera angles and the lush scenery.
Of course getting keeper shots in this type of scenario meant pressing that shutter button a lot. As you can see, not only did I have to wait for the light to be on the right side of me, but I also needed nice scenery. And neither of us could blink.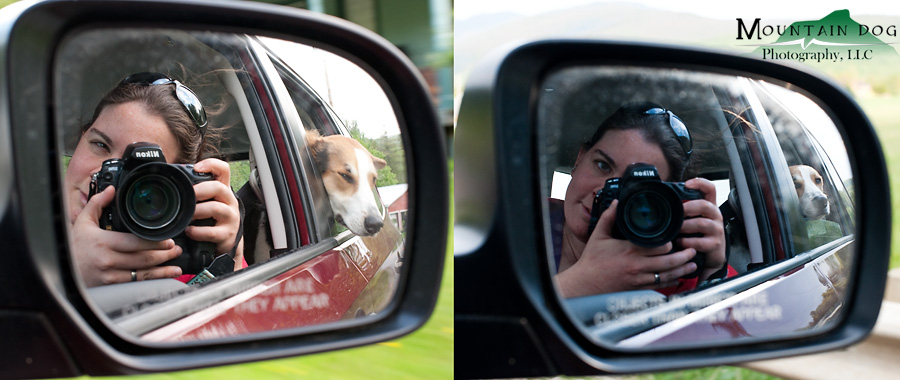 But no worries, with persistence and good light I was able to get a couple of shots that I really like.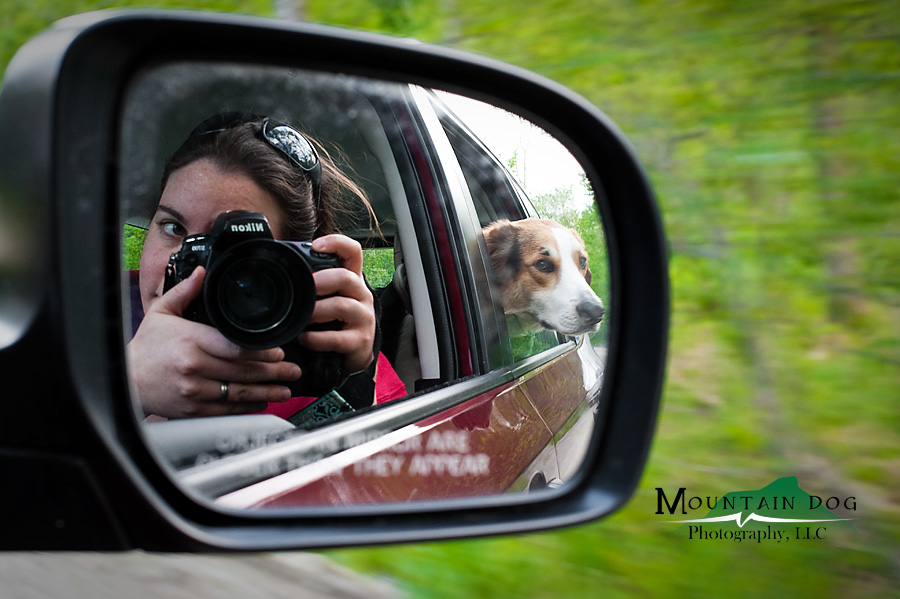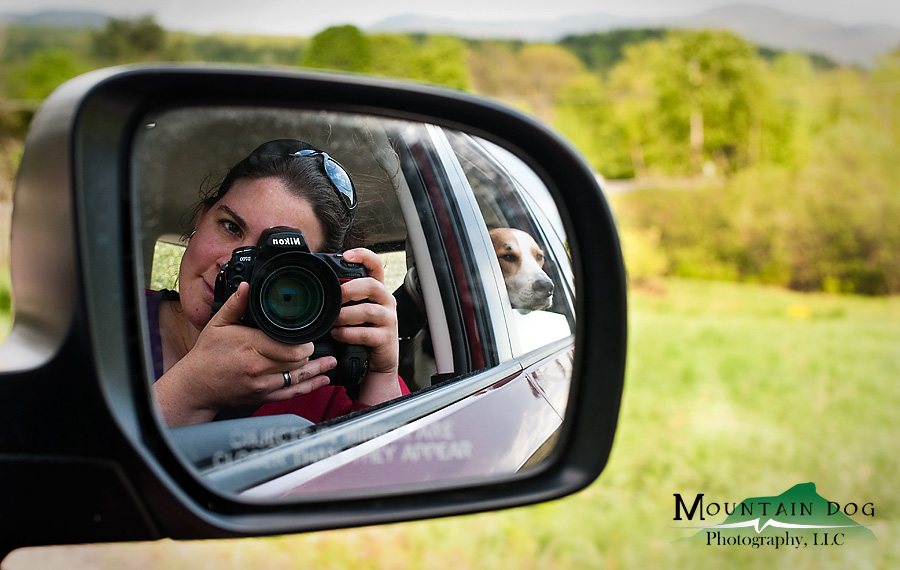 I got a little daring with my camera, too. With the strap wrapped a few times around my arm I held it out the window and aimed in the general direction of Mr. Puppyface. This required so many takes that by the end I knew if the angle was about right by the amount of pain in my wrist. These are my favorite images from the day…
You'll have to wait a couple more weeks before I get some properly good agility photos. Jack is still learning how to maneuver different obstacles and it's just not a photogenic situation – yet !
Here's hoping for a beautiful, warm summer with many opportunities to play like a dog!
Peace and Furballs,
~Kelly