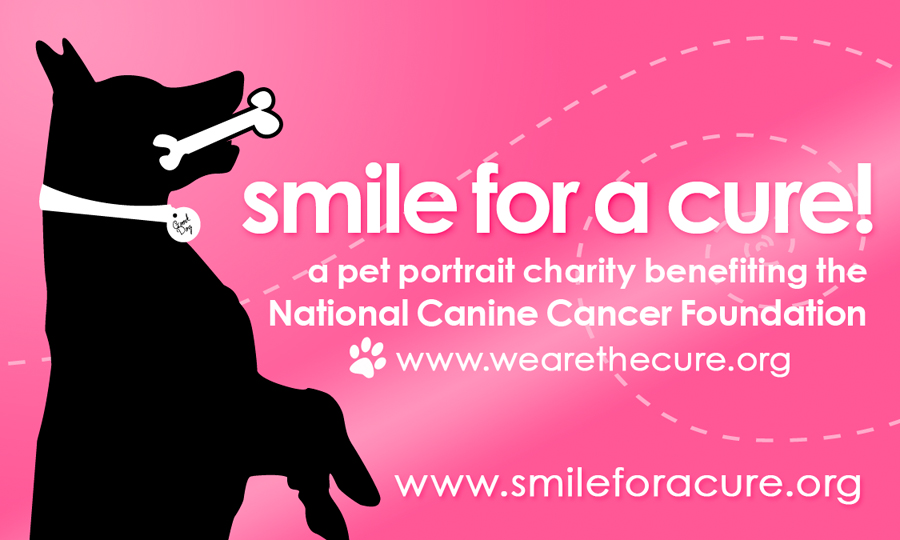 I'm excited! Recently I joined a number of other pet photographers involved with the Smile For A Cure pet photography charity. A full 100% of my "Smile" session fees will be donated to the National Canine Cancer Foundation during the month of September 2011!
The way the program works is simple:
1) I have pledged to donate all of my session fees for a minimum of 3 Smile sessions during the month of September 2011. My goal is 4 Smile sessions and $1000 raised.
2) You can expect the same dedication, time and quality for a Smile session as any of my regular portrait sessions. The difference is that you are making a contribution to a cause that is close to both our hearts and getting custom portraiture at the same time. A win for you obviously, a win for NCCF, and a win for me for getting to meet and photograph more fur kids!
3) If you are interested in a Smile session contact me at Kelly@MountainDogPhotography.net or 802-989-5707 to get more information or to schedule.
4) Instead of paying me for the session, make your donation directly to the National Canine Cancer Foundation via Smile For A Cure's donation page. My base session fee is $225 but may be more depending on the number of critters you have. The session fee must be donated before our session. For anyone who donates an extra $100 I will include a spiral bound 5×5″ proof book from their session!
Again, Smile sessions are only available in September this year. Next year I will be offering Smile sessions for 2 months but I'm not sure which yet. So, book now!
Peace and Furballs,
~Kelly
In honor of my first two dogs, Tristan and Samantha, who died within two weeks of each other due to cancer.
In memory of so many others who have fought as well.