Brandy and Michael couldn't decide if they wanted to have their family portraits done inside or outside, so I suggested that we do both. We started the session indoors with Auggie and Nick, two laid back greyhounds, relaxing in their beds. As I set up my backdrop and lights it became apparent that the boys still wanted to maintain maximum comfort during their shoot and insisted on having their beds for the whole process. No worries though, the finicky photographer was able to use a throw blanket that matched the dogs and backgrounds beautifully and so appeased her finicky models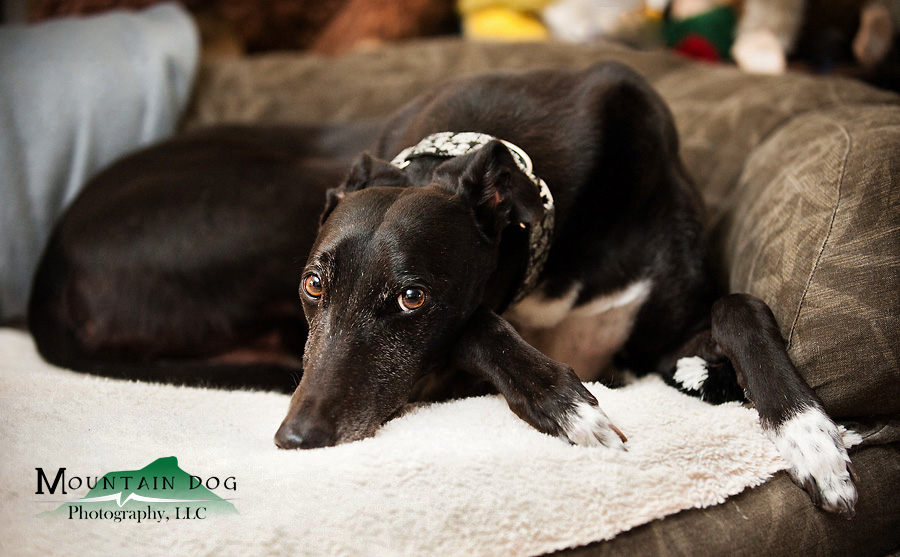 After wrapping up indoors we headed out to find some gorgeous light. There were a lot of tall trees around that created long shadows that were so fun to incorporate into the scene.
You may remember Auggie from a post I did about BAM'N Coats. He and Nick are the inspiration for Brandy and Michael to create beautiful, well-built coats for deep chested dogs. I was so impressed by them that I ordered one for our little min pin, JB. JB's little hot pink coat still looks new, despite it being a few months old with regular use. Here's my favorite image of Auggie, all snuggly warm in his coat. To see more of the coats check out my previous blog post (linked above) or go to www.bamncoats.com!
Peace and Furballs,
~Kelly